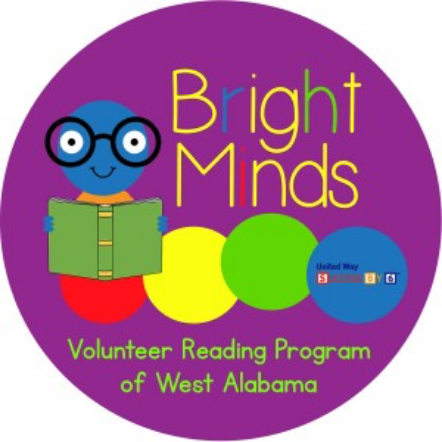 Bright Minds
Bright Minds is a Success By 6 of United Way of West Alabama reading program. It is an organization of volunteers who read to preschool, Pre-k, and kindergarten children in classrooms. It is a proven fact that children who are read to perform better in school and become better readers.

When you read to a child, you are helping to lay the foundation for their future. Volunteer today because learning to love reading at an early age is the first step to a BRIGHTER FUTURE.
Bright Minds Volunteer Reading Program began in Tuscaloosa County in July 2014.
Volunteers are asked to donate at least an hour each month for a year (or per semester for students).
Bright Minds expanded in Sumter County in April 2015 and is currently expanding into Marengo and Pickens Counties with the help of Americorp VISTAs.
Individuals and groups are invited to volunteer. Currently we are working with the following volunteer groups:

University of Alabama's Honors College sends 30 volunteers per semester to read.
Kappa Kappa Gamma sorority for the second semester.
TO VOLUNTEER TO BE A BRIGHT MINDS READER, FILL OUT THE TWO FORMS BELOW AND RETURN THEM TO