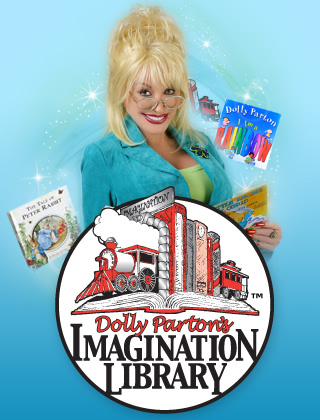 Dolly Parton's Imagination Library
Success By 6 of United Way of West Alabama is proud to provide Dolly Parton's Imagination Library books FREE to children ages birth to 5 years old (Greene, Hale, Marengo, Pickens, Sumter, and Tuscaloosa counties). Once a month, your child will receive a new book by mail. You only need to do two things: register your child and pledge to read the books to him/her. Please, climb on board Dolly Parton's Imagination Library!
Success By 6 implemented the Dolly Parton Imagination Library (DPIL) program in September 2008.
Currently (10.5.2017), about 4,779 children receive free books each month in Tuscaloosa; and, more than 11,000 children have been served and graduated from this program.
Success By 6 also offers DPIL in Sumter, Marengo, Pickens, Greene and Hale Counties thanks to an anonymous grant and donations from members of our Alexis de Tocqueville Society.
Research has shown children who are read to become better readers, develop critical thinking skills and have better language skills.
Longitudinal studies by several private and federal foundations prove that parents are reading more to their children since they have been receiving DPIL books.
Thank you to the Tuscaloosa Association of Realtors and Tuscaloosa Morning Rotary Club for sponsoring books annually for local children so we are able to provide the books at no cost. In homes where it is a daily struggle to put food on the table, a child may grow up without a single book in the home. With your donations to United Way, we help ensure children in West Alabama have access to books at home. This is proven to help enhance future reading skills and improve cognitive development.

If you'd like more information on how you can help increase our coverage area, please contact Cheryl Fondren or call 205.345.6640